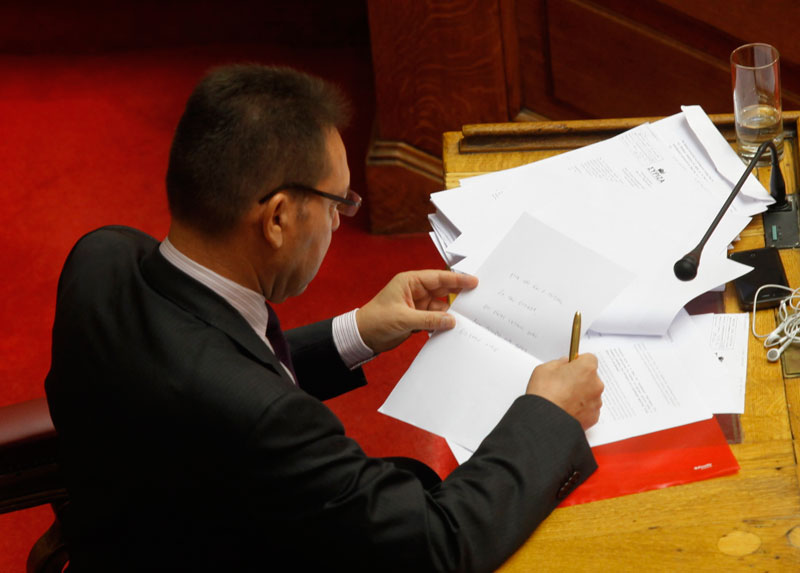 By Spiros Sideris – Athens
With a narrow majority, passed the multi-bill that was brought to Parliament by the government in the form of urgent,in a vote that took place just after midnight on Sunday. The multi-bill was a precondition of the agreement between the Greek government and the troika.
Two hundred and ninety MPs took part in the vote, of who "for" voted the members of ND and PASOK, while the main opposition SYRIZA , the Independent Greeks, the Golden Dawn, the Democratic Left and the Communist Party, voted "against".
With votes 152 "for", 135 against  and 1 "present" (the greek Parliament has 300 MPs) passed the first article of the multi-bill, which includes provisions for the social dividend and the so-called "toolbox" (a series of neoliberal policies) of the Organisation of the European Financial Cooperation (OOSA).
The second article of the multi-bill, which includes the provisions for the banks and the Financial Stability Fund, passed with 151 votes in favor, 136 against and 1 "present".
The voting was "marked" by the rejection of Article 2 by the former prime minister, George Papandreou, while former parliament speaker and New Democracy MP, Apostolos Kaklamanis, voted "present".
Mr Kaklamanis also voted "present" in the voting for Article 1 of the multi-bill.
Mr Kaklamanis' "present" led to his deletion from the parliamentary group of the New Republic, following the decision of the Prime Minister Antonis Samaras, who headed to the presidum, wrote the statement for deletion of the MP on the spot, and handed in to the director general of Parliament, who in turn handed it over to Parliament's acting President, Ioannis Tragakis, to read it to the plenary.
Those absent from the voting were Gregory Psarianos and Vasilis Economou from the Democratic Left party, as well as Andreas Psycharis from ND and Angela Gerekou from PASOK, who sent letters saying they would have voted in favor. However, these votes are invalid.
Tension was high during the discussion of the multi-bill, both for the last-minute amendments, which were brought forward by the ministers, and for the cencure motion deposited from SYRIZA against the Finance minister, Giannis Stournaras (photo), which was rejected leading the main opposition party to withdraw from the plenary.
Just before the completion of the debate, Development minister, Kostis Chatzidakis, and Finance minister, Yiannis Stournaras, announced technical legislative improvements to the multi-bill, in regard to milk, Education and Health.