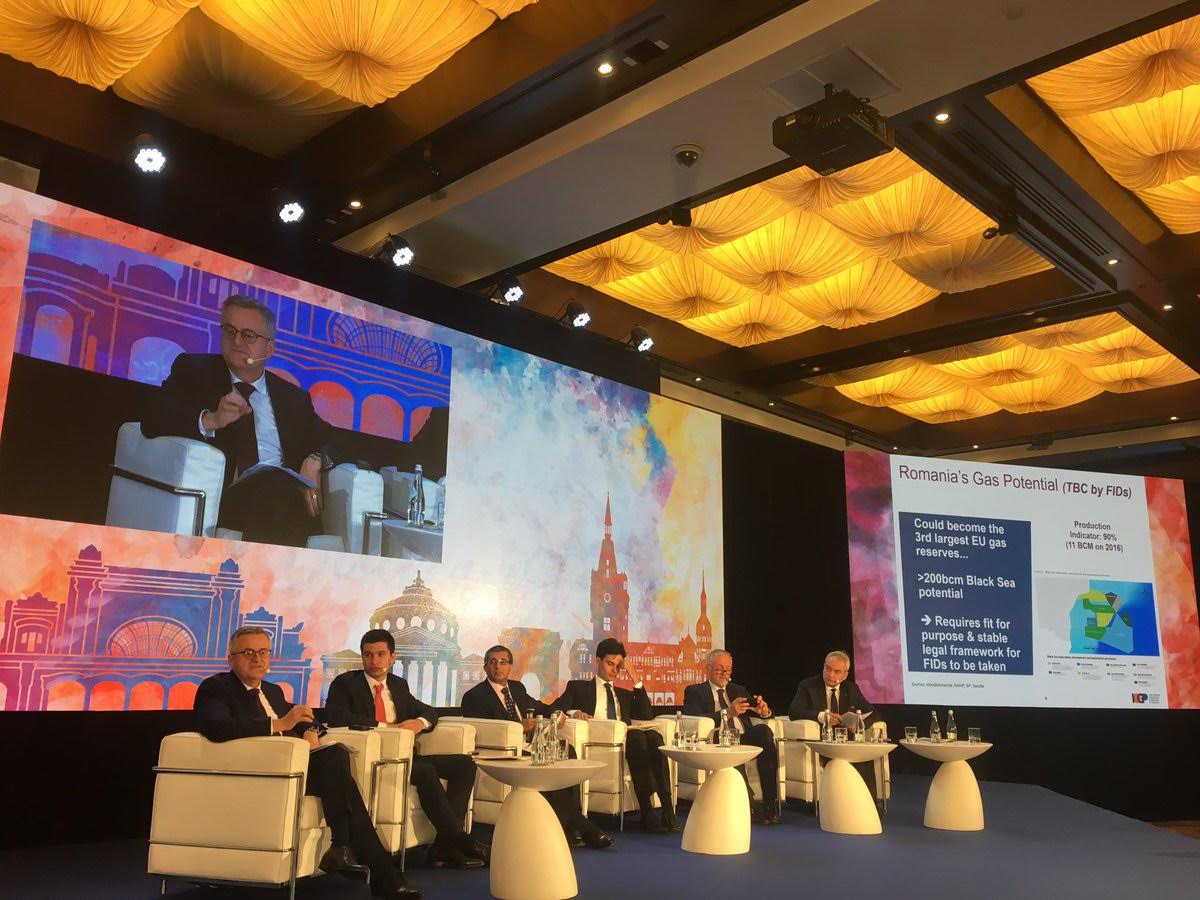 Τα οφέλη από την αξιοποίηση των κοιτασμάτων πετρελαίου και φυσικού αερίου που έχουν εντοπιστεί στην Μαύρη Θάλασσα εντός της Αποκλειστικής Οικονομικής Ζώνης της Ρουμανίας μπορεί να είναι πολύ σημαντικά.
Τα έσοδα και τα κεφάλαια που θα προκύψουν από την εκμετάλλευση των πλουτοπαραγωγικών αυτών πηγών θα συνεισφέρουν στον κρατικό προϋπολογισμό, ενώ υπολογίζεται ότι θα δημιουργηθούν περί τις 30.000 θέσεις εργασίας.
Σε αυτά τα συμπεράσματα κατέληξαν οι συμμετέχοντες στην ημερίδα που διοργάνωσε ο σύνδεσμος Gas Infrastructure Europe (GIE) στο Βουκουρέστι, δίνοντας το σύνθημα πως μπορεί η Ρουμανία να αφήσει πίσω της τον άνθρακα και να στραφεί πλέον στο φυσικό αέριο.
Και από ότι φαίνεται όχι μόνο…
Η Ρουμανία, όπως υποστηρίχθηκε, μπορεί να αναδειχθεί στην τρίτη μεγαλύτερη παραγωγό χώρα φυσικού αερίου στην Ευρώπη χάρη στα αποθέματα υδρογονανθράκων που φιλοξενεί το υπέδαφος της Μαύρης Θάλασσας.
Σύμφωνα μάλιστα με τον Francois-Regis Mouton, επικεφαλής EU affairs at the International Association of Oil and Gas Producers (IOGP), η Ρουμανία διαθέτει ένα δυναμικό της τάξης των 200 δισ. κυβικών μέτρων φυσικού αερίου.
Στην περίπτωση εν τω μεταξύ που επιβεβαιωθούν οι εκτιμήσεις αυτές αναμένεται να αλλάξουν ριζικά οι ισορροπίες στην περιοχή της ΝΑ Ευρώπης, ωστόσο προκειμένου να συμβεί αυτό είναι απαραίτητο να έχει γίνει η απαραίτητη προεργασία…
«Χρειαζόμαστε -όπως σημείωσε- τις διασυνοριακές διασυνδέσεις, την απελευθέρωση της ενεργειακής αγοράς και ένα σταθερό νομικό καθεστώς».
Στο πλαίσιο αυτό, επανέρχεται στην επικαιρότητα η ανάγκη ολοκλήρωσης από την ρουμανική Transgaz της κατασκευής του αγωγού Bulgaria-Romania-Hungary-Austria – BRUA, ο οποίος θα συμβάλει στην αύξηση της μεταφοράς ποσοτήτων φυσικού αερίου μεταξύ Ρουμανίας και Ουγγαρίας κατά τα 4,4 δισ. κυβικών μέτρων.
Σύμφωνα με έκθεση της εταιρείας Deloitte, οι επενδύσεις στην Μαύρη Θάλασσα στον τομέα του φυσικού αερίου θα επιφέρουν έσοδα της τάξης των 26 δισ. δολαρίων, ενώ θα ενισχύσουν το ΑΕΠ της Ρουμανίας με 40 δισ. δολάρια έως το 2040.
Το Βουκουρέστι φαίνεται πως έχει εξασφαλίσει τις πρώτες εξαγωγές φυσικού αερίου, καθώς ενδιαφέρον έχει ήδη επιδείξει η Ουγγαρία, η οποία μάλιστα προχώρησε και στην υπογραφή συμφωνίας με την αμερικανική ExxonMobil, η οποία εκμεταλλεύεται σε συνεργασία με την ρουμανική OMV Petrom τα κοιτάσματα στην Ρουμανία, για την παραλαβή ποσοτήτων φυσικού αερίου από το 2022…. / IBNA