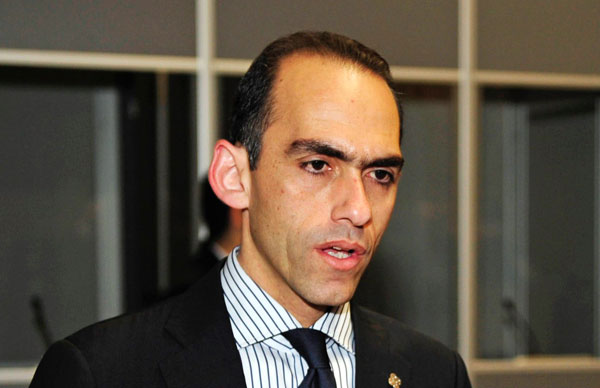 Nicosia, October 28, 2015/Independent Balkan News Agency
The creditworthiness of the Republic of Cyprus has essentially been restored, said the Finance Minister Harris Georgiades, speaking to reporters on the sidelines of an event of RCB in the Presidential Palace.
Invited to comment the issuance of a 10-year eurobond (EMTN), by the Ministry of Finance on Tuesday, Georgiades said: "Today we had a successful 10-year bond issuance for the Republic of Cyprus".
He noted that the Republic of Cyprus has raised one billion euros with an interest rate of 4.25%, adding that "it is the lowest ever pricing for a 10-year bond for Cyprus "
At the same time he noted that 450 million out of one billion euro will be immediately used to exchange bonds maturing in the period 2019-2020, while the remaining approximately 550 million will enhance the state cash reserves and will help the management of public debt for the next period, after Cyprus exits the financial support program.
"What I want to emphasize is that the creditworthiness the Republic of Cyprus has been effectively restored", he said, adding that he didn't use the world "finally" because in the economy nothing is final if not supported by a coherent and credible policy. He added that the Government will continue the policy followed over the past two years that has helped restoring the credibility of the country`s economy.
This is the third time since the start of the economic adjustment program in 2013, that Cyprus taps the markets, following an upgrade of its economy by Fitch Ratings, last Friday. Euro zone bond yields fell on Tuesday following oil prices slump.
It is also the first time since the economic crisis that Cyprus borrows from the primary market through the sale of 10-year EMTN. The Ministry had also announced an invitation to holders of existing eurobonds to exchange them with the new issue of the Republic.
Source: CNA