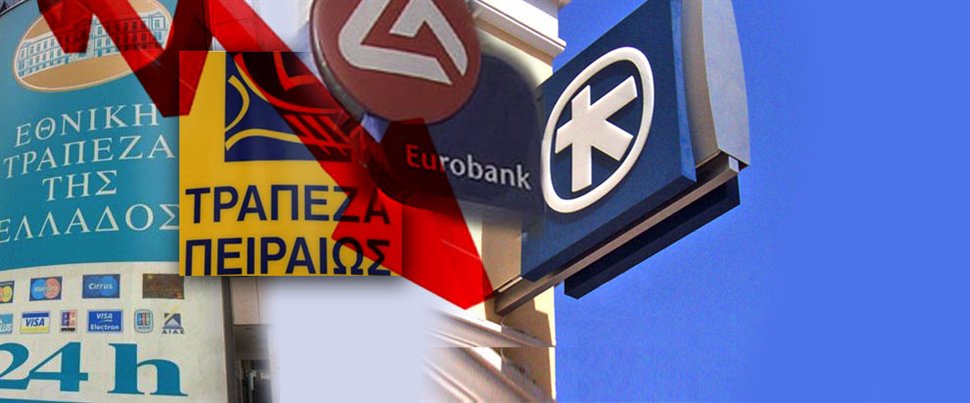 By Lefteris Yallouros – Athens
As Greek banks prepare for their imminent recapitalization, speculation mounts over whether or not they will be able to come up with the 10% of their total capital needs privately – as required by law – to keep the banks beyond state control.
With share capital increases drawing closer, few things are considered certain. Pireaus Bank and Alpha Bank seem to have found the funds to steer clear from losing control to the Financial Stability Fund. We also know for sure that Eurobank will be heading in the opposite direction. What the future holds for Greece's National Bank remains uncertain.
Media speculation is at an all-time high. More often than not, scenarios are thrown about depending on each medium's interests at any given time. In all honesty, nobody knows if the directors of the National Bank will attract the necessary private investment. Board members have vowed to stay silent on their efforts until the process is complete.
Prominent businessmen and Greek tycoons (not only shipping magnates) as well as foreign investors have been approached. Is it probable that they will be interested? Common sense and hard facts alike, say "yes".
The National Bank of Greece is the country's biggest lender; it recently posted profitable quarterly results and has an array of valuable assets such as Turkish unit Finansbank. Furthermore, it's capitalization for the foreseeable future is already assured.
So, what would it mean if the bank failed to stay private?
For Greece it would be a disaster as it would show that investors do not believe in the recovery scenario enough to put their faith in the country's largest bank institution. For the bank itself, however, it wouldn't mean such doom. As analysts point out, the National Bank of Greece would have to follow the footsteps of Eurobank. It would turn to the domestic stability fund to be temporarily nationalized before merging with the "good parts" of smaller Greek banks and eventually be sold to new owners. Eurobank's stock has been performing well enough recently to show that the deal is anything but a disaster.
Having said that, the great tragedy would be for the bank's current owners and those running it.