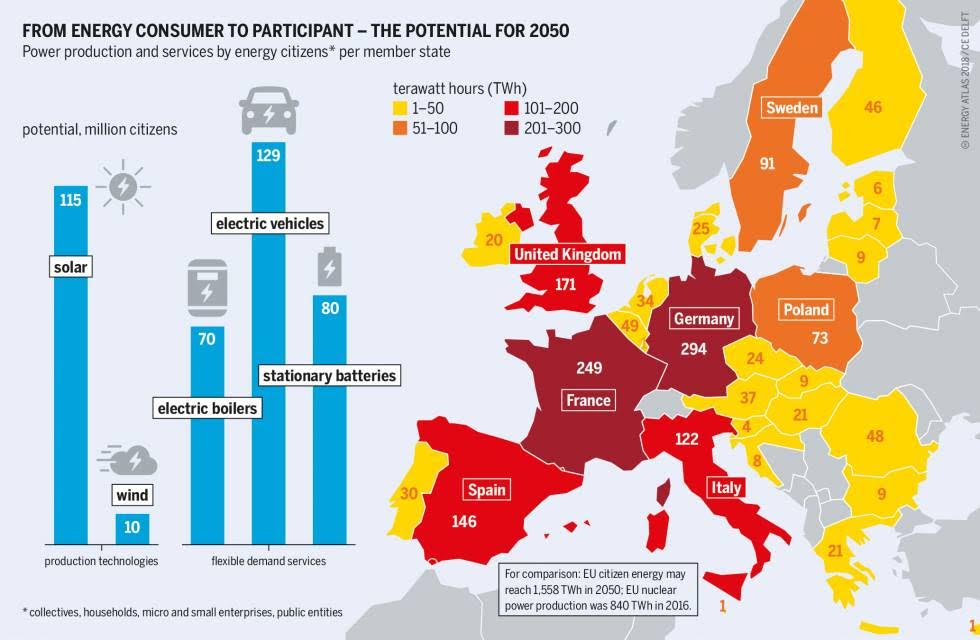 Οι «ενεργειακοί πολίτες», οι «απλοί» πολίτες, δηλαδή, που αποφασίζουν να επηρεάσουν το ενεργειακό μείγμα της Ε.Ε., εγκαθιστώντας αποκεντρωμένες μονάδες παραγωγής ηλεκτρικής ενέργειας ή σχηματίζοντας ενεργειακούς συνεταιρισμούς, σύμφωνα με τις προβλέψεις, το 2050 πιθανόν να παράγουν διπλάσια ποσότητα ενέργειας από αυτήν που παράγουν σήμερα οι πυρηνικοί σταθμοί!
Πρωτοπόρα σε αυτά τα μικρά έργα «καθαρής ενέργειας» είναι η Δανία, καθώς το 74% της παραγόμενης ενέργειας της χώρας προέρχεται από Ανανεώσιμες πηγές ενέργειας (ΑΠΕ). Την δυναμική αυτή υποστηρίζουν κυβερνητικές επιλογές, όπως η χορήγηση αδειών σε έργα αιολικής ενέργειας, μόνο στην περίπτωση που οι φορείς και οι εταιρείες που τα αναπτύσσουν ανήκουν τουλάχιστον κατά 20% στις τοπικές κοινότητες.
Και στην υπόλοιπη Ευρώπη όμως οι «ενεργειακοί πολίτες» διαδραματίζουν έναν ολοένα και πιο σημαντικό ρόλο. Στην Γερμανία, για παράδειγμα, η ενέργεια που παρήγαγαν το 2017 τα «μικρά» φωτοβολταϊκά ισοδυναμεί με 79 TW ηλεκτρικής ενέργειας!
Η διασυνδεσιμότητα σε ολόκληρη την Ευρώπη στο μεταξύ θα συμβάλει στην υλοποίηση αυτής της ενεργειακής μετάβασης, όπως καταδεικνύει η έκθεση "Energy Atlas: facts and figures about renewables in Europe" που συνυπογράφουν οι European Renewable Energies Federation, Friends of the Earth Europe και Green European Foundation, η οποία υποστηρίζει παράλληλα ότι η μετάβαση αυτή αποτελεί την ευκαιρία για την Ευρώπη να καταστεί ο παγκόσμιος ηγέτης στις ΑΠΕ, χάρη και στις πρωτοβουλίες των πολιτών και των ενεργειακών συνεταιρισμών.
Κατά τα άλλα ασυμφωνίες…
Το Ευρωπαϊκό Κοινοβούλιο από την πλευρά του εμμένει στην θέση του να συμπεριλάβει πλοία, αυτοκίνητα και αεροπλάνα στους ευρωπαϊκούς στόχους ενεργειακής εξοικονόμησης για το 2030, παρά το γεγονός ότι ορισμένα κράτη-μέλη αρνούνται συστηματικά να αποδεχτούν τον δεσμευτικό χαρακτήρα των στόχων, όπως καταγράφεται στο λεγόμενο «Clean Energy Package».
Ο ίδιος ο στόχος ωστόσο της ενεργειακής εξοικονόμησης αποτελεί αγκάθι στις διαπραγματεύσεις, με την Βουλγαρία, η οποία έχει αναλάβει την Προεδρία της Ε.Ε., να τον τοποθετεί στο 31-33%, πιο κοντά στο στόχο του 35% που ψήφισε τον Ιανουάριο το Ευρωπαϊκό Κοινοβούλιο, την στιγμή που το Ευρωπαϊκό Συμβούλιο ορίζει ως στόχο το 30%.
Πρωτοπόρος στα Βαλκάνια…
Σημαντικά βήματα προς την κατεύθυνση της εξοικονόμησης ενέργειας και της υποστήριξης των ΑΠΕ κάνει το τελευταίο διάστημα η Αλβανία.
Έχει θέσει μάλιστα ως στόχο την συμβολή των ΑΠΕ στην ηλεκτροπαραγωγή κατά 38% με ορίζοντα το 2020…. / IBNA